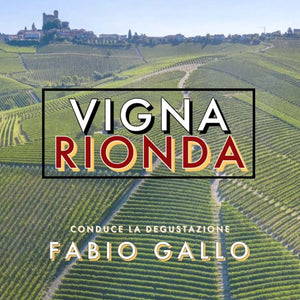 Vigna Rionda | Giovedì 29 Settembre ore 20
IT- Degustazione guidata da Fabio Gallo (Professional Sommelier / AIS )
Essendo uno dei siti più famosi delle Langhe, non ha bisogno di presentazioni. Guidati da Fabio Gallo andremo a decifrare e delineare perché questo vigneto è diventato così venerato. Avere l'opportunità di assaggiare 9 i produttori fianco a fianco è un'occasione UNICA specialmente se in un contesto intimo frequentato da appassionati di sua maestà il Barolo. DA NON PERDERE !!!!
Per ogni evento, posti disponibili sono 14.

EN- A guided tasting by Fabio Gallo (Professional Sommelier / AIS )
Being one of the most famous sites in the Langhe, it needs no introduction. Led by Fabio Gallo we will somehow go on to decipher and outline why this vineyard has become so revered. Having the opportunity to taste 9 producers side by side in a small intimate group of like-minded enthusiasts and producers is definitely a unique opportunity not to be missed.
Ecco i vini che assaggerai:
Barolo "Vigna Rionda" Riserva 2016 | Massolino
Barolo "Vigna Rionda" Riserva 2015  | Podere Oddero
Barolo "Vigna Rionda" 2018 | Figli Luigi Oddero
Barolo "Vigna Rionda" 2016 | Ettore Germano
Barolo "Vigna Rionda" 2018 | Guido Porro
Barolo "Vigna Rionda" 2018 | Luigi Pira
Barolo "Vigna Rionda" 2018 | Arnaldo Rivera
Barolo "Vigna Rionda Ester Canale" 2018 | Giovanni Rosso
Barolo "Vigna Rionda" 2013 | Giacomo Anselma