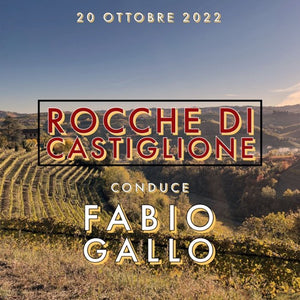 Rocche di Castiglione | Giovedì 20 Ottobre ore 20
IT- Degustazione guidata da Fabio Gallo (Professional Sommelier / AIS )
 Dopo il grande successo della serrata dedicata di Vigna Rionda, questo Ottobre vi presentiamo le Rocche di Castiglione. Degusteremo i vini dei 9 produttori di questa Cru e le specificità e caratteristiche di queste vigne rinomate in tutto il mondo ci verranno spiegate da Fabio Gallo.
Avrete l'opportunità di assaggiare questi vini all'interno di piccoli gruppi di appassionati e entusiasti del settore, ma anche produttori. Vi garantiamo che non mancheranno dibattiti e opinioni interessanti.
Non mancate!!
I biglietti si posso acquistare direttamente dal nostro sito senza bisogno di prenotazione.
La degustazione sara guidata in Italiano
Per ogni evento i posti disponibili sono 14.
EN- A guided tasting by Fabio Gallo (Professional Sommelier / AIS )
Following on from the success of our evening dedicated to Vigna Rionda we will present Rocche di Castiglione this October. We will enjoy the wines from each of the 9 producers of the Cru while the technicalities and characteristics of this world-renowned vineyard are explained by Fabio Gallo. We will taste the wines amongst a small group of like minded enthusiasts and producers which is sure to promote discussion and debate. This is one not to miss!
The tasting will be conducted in Italian, but we will be available to translate should you need it, just let us know when you book.
Booking is by tickets purchased directly through the 'Events' section on our website.
Places at the tasting will be limited to 14.
 Ecco i vini che assaggerai:
Barolo "Rocche di Castiglione" 2018 | Arnaldo Rivera
Barolo "Rocche di Castiglione" 2018 | Vietti
Barolo "Rocche di Castiglione" 2018 | Roccheviberti
Barolo "Rocche di Castiglione" 2018 | Sordo
Barolo "Rocche di Castiglione" 2018 | Monchiero
Barolo "Rocche di Castiglione" 2018 | Brovia
Barolo "Rocche di Castiglione" 2018 | Ceretto
Barolo "Rocche di Castiglione" 2016 | Roagna
Barolo "Rocche di Castiglione" 2017 | Poderi Oddero