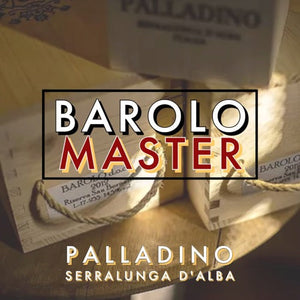 Barolo Masters: Palladino | Giovedì 15 Settembre ore 20
IT- Degustazione guidata da Alessandro Olocco
Unisciti a noi per un'esclusiva degustazione dei vini della cantina Palladino di Serralunga d'Alba. I vini saranno presentati da Alessandro e tu avrai l'opportunità di assaggiarli e discuterne con il produttore.
La degustazione sara guidata in Italiano
Per ogni evento i posti disponibili sono 14.
EN- A guided tasting with Alessandro Olocco
Join us for an intimate tasting of the wines from Palladino estate based in Serralunga d'Alba. The wines will be presented by Alessandro and you will be given the opportunity to taste and discuss the wines with the producer. 
The tasting will be conducted in Italian
 Ecco i vini che assaggerai 
- Dolcetto d'Alba 2021
- Barbera "Bricco delle Olive " 2019
- Nebbiolo d'Alba 2020
- Barolo Comune di Serralunga d'Alba 2018
- Barolo Ornato 2018
- Barolo Parafada 2018
- Barolo Riserva San Bernardo 2016
- Barolo Riserva San Bernardo 2005 DMAG