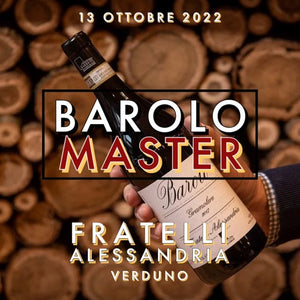 Barolo Masters: Fratelli Alessandria | Giovedì 13 Ottobre ore 20
IT- Degustazione guidata da Vittore Alessandria
Il mese di Ottobre inzia con un'altro grande protagonista del Barolo, Fratelli Alessandria! Vittore Alessandria ci guiderà nella degustazione e ci racconterà i passaggi più importanti del percorso che ha portato il nome della cantina storica di Veduno nell'olimpo dei grandi produttori di Barolo! In degustazione ci saranno ovviamente tutte le etichette di Barolo ma non solo, prodotte dalla Famiglia Alessandria.
I vini saranno presentati da Vittore nel nostro accogliente "Salotto" dove avrete la possibilità di soddisfare le vostre curiosità rivolgendo direttamente a lui le vostre domande.
I biglietti si posso acquistare direttamente dal nostro sito senza bisogno di prenotazione.
La degustazione sara guidata in Italiano.
Per ogni evento i posti disponibili sono 14.
EN- A guided tasting with Vittore Alessandria
The month of October kicks off with one of the great producers of Barolo, Fratelli Alessandria.
Vittore Alessandria will guide us through the tasting and will recount the journey that has carried this historic estate to be recognised as one of the greats among the producers of Barolo. The tasting will contain all of the cellars great Barolo wines but will also include other wines produced by the Alessandria family.
The tasting will be hosted in our welcoming "sitting room" where you will have the opertunity to satisfy your curiosity by directing your questions directly to Vittore.
The tasting will be conducted in Italian, but we will be available to translate should you need it, just let us know when you book.
Booking is by tickets purchased directly through the 'Events' section on our website.
Places at the tasting will be limited to 14.
Ecco i vini che assaggerai:
Verduno Pelaverga 'Speziale' 2021
Langhe Nebbiolo 'Prinsiòt' 2020
Barolo 'del comune di Verduno' 2018
Barolo 'San Lorenzo di Verduno' 2018
Barolo 'Monvigliero' 2018
Barolo 'San Lorenzo' 2006