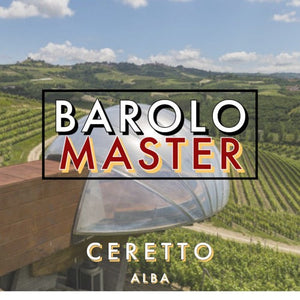 Barolo Masters: Ceretto | Giovedì 22 Settembre ore 20
IT- Degustazione guidata da Federico Ceretto
Unisciti a noi per una esclusiva degustazione personalizzata dei vini della cantina Ceretto. I vini saranno introdotti da Federico e tu avrai l'opportunità di degustare e discutere i vini con il produttore.
La degustazione sara guidata in Italiano
Per ogni evento i posti disponibili sono 14.
EN- A guided tasting with Federico Ceretto
Join us for an intimate tasting of the wines from the Cerreto estate. The wines will be presented by Federico and you will be given the opportunity to taste and discuss the wines with the producer. 
The tasting will conducted in Italian
 Ecco i vini che assaggerai
       Nebbiolo d'Alba Bernardina 2021
Barbaresco 2019
Barbaresco Asili 2019
Barbaresco Bernadot 2019
Barbaresco Gallina 2019

Barolo
Barolo Bussia 2018
Barolo Brunate 2018
Barolo Prapò 2018
Barolo Rocche di Castiglione 2018