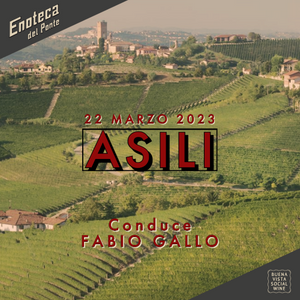 Barbaresco "Asili" | Mercoledi 22 Marzo ore 20

IT- Degustazione guidata da Fabio Gallo (Professional Sommelier / AIS )
Per la prima degustazione del 2023 assaggeremo i Barbaresco "Asili", famosi in tutto il mondo.
Guidati da Fabio Gallo andremo a decifrare e delineare perché questo vigneto è diventato così venerato. Avere l'opportunità di assaggiare i 9 produttori fianco a fianco è un'occasione UNICA. DA NON PERDERE !!!!
I biglietti si possono acquistare direttamente dal nostro sito.
La degustazione sarà guidata in Italiano
Per ogni evento i posti disponibili sono 14.
EN- A guided tasting by Fabio Gallo (Professional Sommelier / AIS )
For for the first MGA tasting of 2023 we will be tasting the world famous Barbaresco "Asili". Led by Fabio Gallo we will somehow go on to decipher and outline why this vineyard has become so revered. Having the opportunity to taste 9 producers side by side in a small intimate group of like-minded enthusiasts and producers is definitely a unique opportunity not to be missed.
The tasting will be conducted in Italian, but we will be available to translate should you need it, just let us know when you book.
Booking is by tickets purchased directly through the 'Events' section on our website.
Places at the tasting will be limited to 14.
Ecco i vini che assaggerai:
Barbaresco "Asili" | Ca' del Baio
Barbaresco "Asili" | Bruno Giacosa
Barbaresco "Asili" | Cascina Luisin
Barbaresco "Asili" | Ceretto
Barbaresco "Asili" | Carlo Giacosa
Barbaresco "Asili" | Luigi Giordano
Barbaresco "Asili" | Produttori del Barbaresco
Barbaresco "Asili" | Roagna
Barbaresco "Asili" | Michele Chiarlo
€90